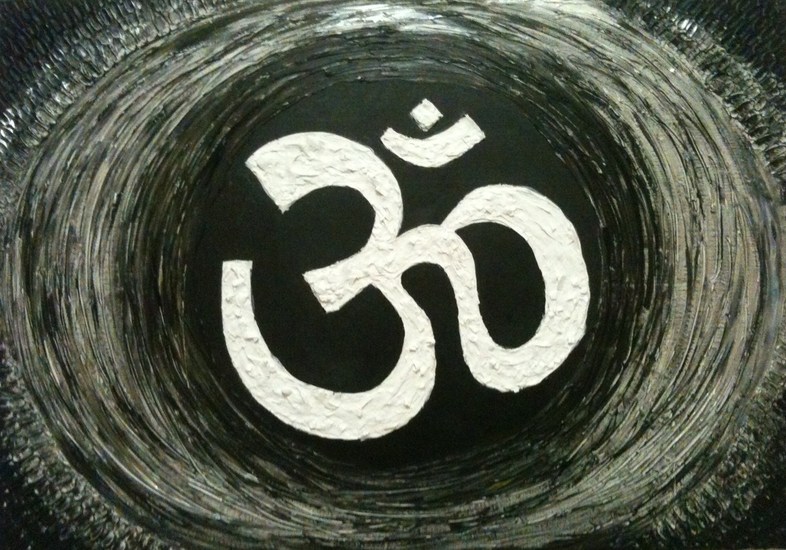 70 x 100 cm, © 2013, price on request

OHM....A calm, soothing and healing effect to Mind, Body and Soul.. Dominant Colors: Black , White and Silver
Medium: Acrylic impasto
Linnen Size: 70 X 100 cm

Features:
-Linnen, painted edges, ready to hang
-Signed and dated on the front and back side by the artist.
-This artwork has been created in a very different and unique and heavy Impasto Style with several New Tecniques which gives 3D effect to the painting.
- I have used PROFESSIONAL ARTIST GRADE paint so be assured that you are getting a unique quality piece.
-This art will look dramatic in a living room or above the Dressior if focused with designated light source.
-© 2013, shilpasaurabh [!at] blogspot.com, all Rights Reserved

Information about OHM:

Ohm or Om or Aum is of paramount importance in Hinduism. This symbol is a sacred syllable representing Brahman, the impersonal Absolute of Hinduism.

Ohm represents both the unmanifest (nirguna) and manifest (saguna) aspects of God. That is why it is called pranava, to mean that it pervades life and runs through our prana or breath.

If repeated with the correct intonation, it can resonate throughout the body so that the sound penetrates to the centre of one's being, the atman or soul.

There is harmony, peace and bliss in this simple but deeply philosophical sound. By vibrating the sacred syllable Ohm, the supreme combination of letters, if one thinks of the Ultimate Personality of Godhead and quits his body, he will certainly reach the highest state of "stateless" eternity, states the Bhagavad Gita.